The Company - An Entrepreneurship Tradition Story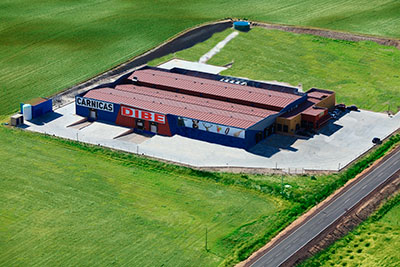 More than three decades forged by tradition and love for our land, the history of what began as a humble dream and today is a reality as a family business.
The beginnings of Cárnicas Dibe S.L., we find them back in the year 1979 to its founders, Dionisio Sanchez Ferreras and Beatriz de Castro Carballo. The company was a little familiar butchery ,with the time Dionisio and Beatriz inherited from this knowledge in the field and passed it on to their children know-how and passion for the work, which today constitute the identity of the company.
The business was developing as a result of increased production, which forced him to extend the existing industry until on two occasions. The year 2005 represents a turning point in the history of Cárnicas Dibe S.L and started the construction of a new industry with more than 4000 m2 and equipped with modern facilities and state-of-the-art infrastructure located in the municipality of El Gordo.
At present, Cárnicas Dibe adds to its history and tradition the youth, dynamism and modernization of the fourth generation family that today is located at the front of the business and whose mission is to meet the demands of their customers and a continuous improvement in the quality of its processes and products that allow it to continue to grow in both the domestic and international market, where it continues from day to day.
Our human capital coupled with technology united with the traceability and food safety.
In Cárnicas Dibe we are aware of the difference, the human capital. For this reason, our concept of family business has evolved into a company consisting of a team of young professionals, innovative, formed and trained to meet the needs of our customers.
We invest in technology to improve and increase the quality in our processes. We have a high computing that helps in the traceability of the industry, getting through all the terminals installed in each one of our production is trace a channel from entrance to exit.
We have a quality department, is highly qualified and is immersed in ongoing projects of I +D +I, looking for new productive processes that ensure our highest priority: the food safety of our products. Our commitment to quality is such that we have with the certification of our industry in the I.F.S quality standards (International Food Standard), which guarantees a maximum and rigorous process of the products.